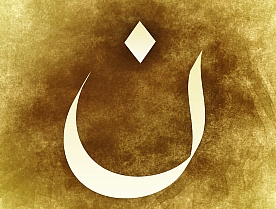 Do you know why Muslims are so obsessed with finding the word "Christian" or "Christianity" in the Bible?
Because these words do not appear in the Quran. They believe the correct name given to the followers of Christ is "Nasara", as in the Quran.
'Nasara' is the Arabic word for Nazarene.
What Muslims have failed to realize is that the name 'Nazarene' was given by Jews to Jewish Christians as an insult.
In fact, in Acts 24:6, there is a reference to the "sect of the Nazarenes".
SURPRISE!
So the Bible does indeed mention the name nazarene (nasara) associated with Christians!
Except that, it was the Jews who gave the Jewish Christians this label as a badge of dishonor because they were followers of Jesus of Nazareth. They were already known as Christians!
But what was so insulting about this name, Nazarene?
The word Nazarene comes from the name of the town, Nazareth, where Jesus hailed from.
Nazareth was a primitive, shabby, dirty slum, about 3 to 5 days journey from the glorious city of Jerusalem. The people of Nazareth were looked down upon and despised by the whole nation. They were like the 'country bumpkins' of Judea.
Even Nathanael, before He became one of the apostles of Jesus, laughed sarcastically when he learnt that Jesus was from Nazareth: "Can anything good come out of Nazareth?" (John 1:46)
Why didn't the author of the Quran know that the word "Nasara (Nazarene)" was derogatory slang used by the Jews as an insult to the Jewish Christians?
How and when was the author of the Quran influenced by those sarcastic Jews to use this word in his book?
Now, let's look at why the word "Christian" does not appear in the Quran.

The English word "Christ" comes from the Greek word Χριστός (Christos) which means Messiah (Masiach in Hebrew).

It is THIS word, Masiach, that is found in the Quran translated as "al-Masih", which means Christ!

So, it is false to say that the word Christ/Christian is not found in the Quran. These are English words! Of course you will not find it in the Quran's Arabic text, just as you would not find it in the original hebrew and Greek texts of the Bible.
(Yet, if you look at your English translated Qurans, your revered translators do use the word Christian! see Sura 2:62 for example.)

The Arabic word al-Masihi is the English word Christ!
From the word "Christ" come the words Christian and Christianity.

Just as from the Arabic word al-Masih come the words Masihi and al-Masihiya.
Interested in Christian-Muslim apologetics?
Read more articles like this and learn how to expose lies
Get my book. Now available on Amazon.