One day Muhammad receives a revelation from Allah concerning those who fail to join jihad.
"Not equal are those believers who sit (at home) and those who strive and fight in the Cause of Allah."
The verse meant that those actively engaged in fighting for Allah's cause were superior to those who merely sat at home not fighting.
Just as this eternal divine verse of revelation was being written down by a scribe of Muhammad, a blind man questions Muhammad. He argues about the fairness of Allah's revelation since he, being blind, cannot participate in jihad.
SUDDENLY……. a NEW verse is revealed!
Not equal are those believers who sit (at home) >>EXCEPT THOSE WHO ARE DISABLED<< and those who strive and fight in the cause of Allah.'

Sura 4:95
And THAT is the verse you find in the Quran today.
This fascinating story is given in the following Sahih hadith.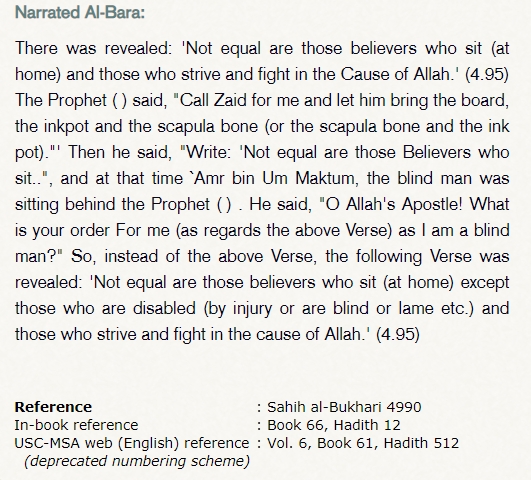 Do you believe an All-Knowing God forgot or overlooked to make an important exception for the disabled?
Did it really take a blind man to correct, improve and revise Allah's initial revelation?
If Islam teaches that the Quran is eternal and preserved upon the Loh E-Mahfooz (the eternal tablet), what exactly is preserved? The one with the exemption of the disabled or the "original" one without it?
What an insult to Allah who is supposed to be infinite in knowledge to be upstaged by a clever poor blind man able to speak on behalf of the disabled, when both Allah and his prophet failed to!
Or was it all just Muhammad making up "revelations" and getting caught for not thinking it through, and then putting the blame on Allah's "abrogation" when caught?
Did Muhammad make up stories about God to fool his followers?
In another Sahih hadith, Muhammad claims that Allah loves sneezes but hates yawns.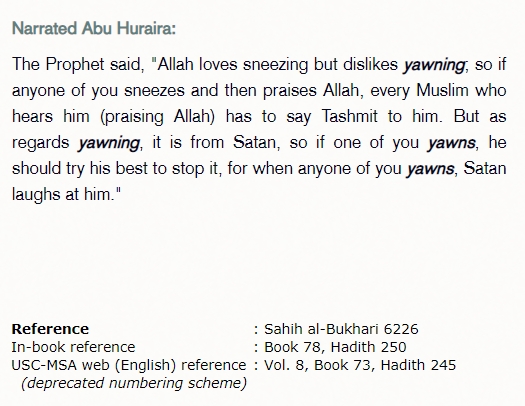 Why would the infinite Creator of the entire universe love or hate what are essentially merely natural reactions of the human body that he himself supposedly created?
How does sneezing excite the infinite Creator?
Why does yawning annoy him?
How can this silliness be true?
Sounds like Muhammad was projecting his pet peeves and phobias onto Allah and dragging Allah down to his level to justify his ridiculous superstitions.
If yawning was such a taboo to the Almighty, why have no prophet ever even mentioned anything about that? Have human beings been yawning for thousands of years without knowing that God hated it?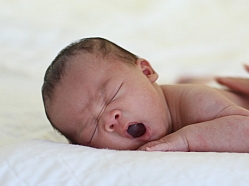 Good night.