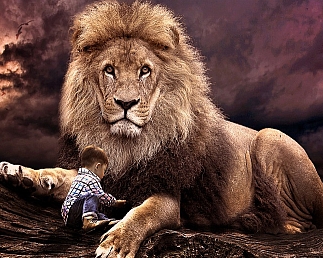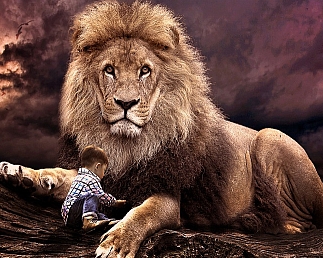 There is a very weird account in the Bible in Genesis 32, where it says that Jacob wrestled with Someone.
What does this strange story mean?
Who was Jacob?
If you read about his life, you will see that Jacob was a cunning, devious man who lived most of his life cheating, fighting, struggling against everyone, just so that he would get his way.
God had actually promised to bless him but Jacob could not grasp God's assurance. Instead he schemed and struggled to grasp for the "blessings" himself.
He deceived his own aged and blind father, Isaac. He deceived his older brother, Esau, on at least two occasions and then, fearing for his life, Jacob fled from him. He went far, far away, got married and later, he deceived his father-in-law and fled from him.
In fact, the name Jacob means "supplanter", meaning one who wrongfuly or illegally takes something. A name that aptly describes his character. His whole life, Jacob's life was characterized by struggling with people to cheat them and run away.
In Genesis 32, Jacob is finally about to come face to face with his long estranged brother, Esau. More than twenty years earlier, when Jacob ran away, Esau had vowed to kill him someday.
Now there was nowhere else to run anymore. No more room to struggle and deceive. He was sure his brother was going to kill him when they see each other in the morning.
That night, he sits alone, by a river, perhaps crying to God for help. He was like a drowning man and he could not save himself. Only God can do that. And God, in His great mercy comes to meet him. In the form of a Man!
Will the "struggler" stop struggling and finally quietly submit to the Savior and allow himself to be rescued and blessed on God's terms?
But Jacob was a stubborn man. Instead of submitting, he now struggles with God!
Of course, God could have destroyed him with one word. However, God was still patiently teaching him like a father works with his son, disciplining him.
You, who are sons, have you ever wrestled with your dad in bed when you were a kid? Doesn't dad always allow you to win? You were not aware, were you, that he could have crushed your little skull with one bash against the wall? No, he allows you to prevail over him in loving affection, bonding, relationship, even as you thump your little fists on his strong body.
But poor Jacob was like a stubborn little, refusing to learn. He kept struggling, wrestling, fighting. Can a drowning man who is struggling be rescued?
When the Lifeguard comes, you have to stop struggling and give in to your rescuer and allow him to pull you to safety. He cannot help you if you keep fighting him!
Aren't we like that? We "wrestle" against God in our rebellion, in our disobedience, in our sin, thinking we are strong enough and that we can work things out our way instead of His will. don't we sometimes push Him away when He comes near lovingly wanting to help.
In the end, the Lifeguard may have to knock you out cold so that you stop fighting in the water and submit to his rescue. And this is what He finally did to Jacob.
"He TOUCHED Jacob's hip and it was dislocated out of its socket." Just one touch. Then Jacob stopped struggling. He could not even stand up.
Now, with his handicap and weakness exposed, he finally submits and asks to be blessed; something that God had always wanted to to do for him from the beginning. All he had needed to do was learn to trust God and submit to Him in faith instead of fighting or deceiving or running away.
God does bless him. God gives him a new name, Israel. He is no longer Jacob, the deceiver. He is now Israel, the prince.
In a sense, Jacob is reborn as a new man with a new identity after his night encounter with God.
What happens next when he meets Esau in the morning?
Does Esau kill him? Or does Jacob continue struggling with Esau?
Maybe they re-unite and embrace as long lost brothers?
It's all there in the Bible. Go ahead and read it.