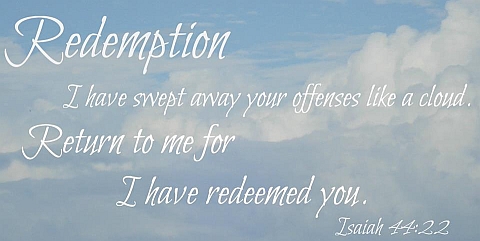 If I were to choose ONE word to summarize the entire Scriptures, it would be this: REDEMPTION.
This is the message of the Torah, Psalms & writings of the Prophets (which make up the Old Testament).
Everything written in Scriptures has this overarching theme of REDEMPTION running through every passage. All the prophets spoke about it and looked forward to it.
REDEMPTION is also the message, fulfilled and confirmed, in the Gospels and the rest of the New Testament.
Without REDEMPTION, all mankind is separated from God and in hell for all eternity. REDEMPTION is more than just forgiveness of sins. It is expiation of sins and atonement.
A simple illustration.
The first chapters of the Bible begin with man being separated from God due to his sin and removed from the Garden.
The last chapters of the Bible end with man being reconciled to God and restored to the Garden.
How? What happened in between?
That's the message of the REDEMPTION of mankind through THE REDEEMER that is the message of the entire Scriptures.
Do you know The Redeemer?
Yet their Redeemer is strong; the LORD (Yahweh) Almighty is his name.

Jeremiah 50:34
My questions:

1. Is the message of REDEMPTION in Islam?

2. Since Muhammad claimed to be a prophet in the line of Abraham and Moses, please show his teachings about REDEMPTION that is compatible with what all the prophets taught and wrote about it.

3. Since the Quran claims to confirm the earlier revelation, please show in the Quran where it confirms the message of REDEMPTION.

4. The majority of Muslims have never even heard of the word REDEMPTION, let alone know the meaning of the word; yet why do they think they can "interpret" the Scriptures that is all about REDEMPTION from Genesis to Revelation?
---
For clarification, redemption is the when something has been redeemed, or bought back, reclaimed at a price. Something must be sacrificed in order to obtain the desired object.
In him we have redemption through his blood, the forgiveness of our trespasses, according to the riches of his grace. Ephesians 1:7
I have blotted out your transgressions like a cloud and your sins like mist; return to me, for I have redeemed you. Isaiah 44:22
Let the redeemed of the LORD say so, whom he has redeemed from trouble. Psalm 107:2
He sent redemption to his people; he has commanded his covenant forever. Holy and awesome is his name! Psalm 111:9
For you know that it was not with perishable things such as silver or gold that you were redeemed from the empty way of life you inherited from your forefathers, but with the precious blood of Christ, a lamb without blemish or spot. He was known before the foundation of the world, but was revealed in the last times for your sake. 1 Peter 1:18-20
For I know that my Redeemer lives, and at the last he will stand upon the earth. Job 19:25
[We]… are justified by his grace as a gift, through the redemption that is in Christ Jesus, whom God put forward as a propitiation by his blood, to be received by faith. This was to show God's righteousness, because in his divine forbearance he had passed over former sins. It was to show his righteousness at the present time, so that he might be just and the justifier of the one who has faith in Jesus. Romans 3:24-26