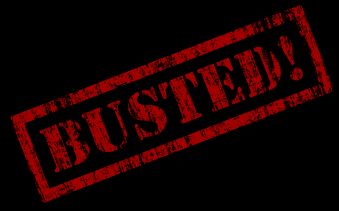 MYTH 1
JESUS NEVER CLAIMED TO BE GOD
In all four biographical accounts of Jesus preserved in the Bible, Jesus made His identity known, including claiming the name of God for Himself. (cf Exodus 3:14, Joh 8:58)
Learn More:
What Did Jesus Say About Himself?
Jesus Did Claim To Be God
Where Did Jesus Say I Am God, Worship Me.
Did Jesus Ever Claim To Be God?
MYTH 2
CHRISTIANS HAVE ABOLISHED THE LAWS
The law provides us with a paradigm of timeless ethical, moral and theological principles, but some laws no longer have validity because they have been completely fulfilled in Christ.
We obey the laws of sacrifice by trusting in Christ as our once-for-all sacrifice, not by bringing sheep or goats to be slain. The kosher laws were designed to set the Israelites apart from the other nations; now we obey this principle when we morally separate ourselves from sin.
Here's the principle: All of the Old Testament applies to Christians, but none of it applies apart from its fulfillment in Christ.
Learn More:
Is The Old Testament Abolished?
What Does It Mean That Jesus Fulfilled The Law?
MYTH 3
CHRISTIANITY IS ANTI-INTELLECTUAL
If Christianity is true, it will stand up to any amount of intellectual scrutiny. Many intellectuals have applied such scrutiny and chosen to believe. Jesus Himself said our devotion to God should not only include our heart, soul and strength, but also our minds.
MYTH 4
THE NEW TESTAMENT ACCOUNTS WERE WRITTEN SO LNG AFTER JESUS THAT THERE IS NO WAY OF KNOWING IF IT IS AUTHENTIC
The four gospels were written quite close to the time and life of Jesus. What has become known as the "Magdalen Papyrus" from Matthew dates as early as 125 A.D. Most of our earliest copies of the original manuscripts date within a generation of Jesus.
Learn More:
Are The Biblical Gospels Trustworthy?
Who Wrote The Gospels?
The Miracle Of The Manuscripts
According To…According To…According To
MYTH 5
ANYBODY CAN INTERPRET THE BIBLE ANY WAY THEY WANT
Hermeneutics, which is the science of interpretation, does not support such interpretive anarchy.
There are rules that govern the interpretation of any document, such as grammar, context, historical background and authorial intent.
Learn More:
Reading The Bible, Reading The Quran
Top 10 Misinterpreted Verses By Muslims
MYTH 6
EVERY CHURCH, INCLUDING FALSE CULTS, ARE CHRISTIANS
In the Bible, the local church was a defined, purposeful gathering of believers who knew they were coming together to be a church.
There were defined entry and exit points to the church; clear theological guidelines navigating corporate and community waters; the responsibility of stewarding the sacraments; specifically named leadership positions; and, of course, a singular mission.
Learn More:
I Never Knew You
Which Jesus Do You Follow?

MYTH 7
WOMEN WERE SUBJUGATED AND HAD LITTLE VALUE
Christianity was actually the great liberator of women, evidenced in countless ways by Jesus and the early church.
Women were heralded teachers and leaders in a day when the testimony of women was not even accepted in a court of law.
MYTH 8
THE BIBLE IS RIDDLED WITH CONTRADICTIONS AND ERRORS.
There isn't a single true "contradiction" in the Bible that is not readily explained through an understanding of the biblical text itself. The vast majority of supposed contradictions are easily cleared up through proper biblical interpretation, knowledge of the original language, historical context and biblical context.
Learn More:
Are There Grave Defects In The Bible?
Does Jeremiah 8:8 Say The Bible Is Corrupt?
MYTH 9
THE GOD OF THE OLD TESTAMENT IS A GOD OF WRATH BUT THE GOD OF THE NEW TESTAMENT IS A GOD OF LOVE
The God of the Old Testament shows equal amounts of love, and the God of the New Testament does not shy away from matters of judgment.
In truth, the two testaments are balanced in their presentations of a God bringing both grace and truth to bear on the human condition.
MYTH 10
THERE ARE MISSING BOOKS OF THE BIBLE THAT HAVE BEEN SUPPRESSED OR LOST
This usually refers to the writings of the Gnostics, a group very intent on undermining Christianity, which were published long after the time of Christ. Scholars are unanimous in labeling them forgeries.
Learn More:
Authenticity Of The Bible

MYTH 11
THE FOUR GOSPELS OF THE NEW TESTAMENT CONTRADICT EACH OTHER
There isn't a single, true "contradiction" in the Bible that isn't readily explained through an understanding of the biblical text itself. There is a vast difference between the inclusion of different details and a contradiction. (e.g., Luke includes the details of the birth of Jesus. But Mark doesn't. This is not a contradiction.)
Learn More:
Contradictions In The Resurrection Accounts?
Why Are There Four Gospels?

MYTH 12
THE BIBLE AND SCIENCE ARE IN DIRECT CONFLICT WITH EACH OTHER
If something can't be examined in a tangible, scientific manner, then it cannot be known or explored through science. Science can point to the existence of a God, and many believe it does, but science will never be able to prove, or for that matter disprove, many of life's ultimate realities.
For its part, the Bible itself doesn't often speak directly about science. It doesn't even try to answer most of the questions that science is asking. You only have a conflict when science tries to speak outside of its realm, or when people try to make the Bible speak outside of what it is intending to.
The Bible is not a science text book but where it mentions anything related to science, it has proven to be accurate.
Learn More:
Is There Science In The Quran?

MYTH 13
A HYPOCRITE OR SINNER IS EVIDENCE THAT CHRISTIANITY IS FALSE
If you spend a day with me, I have no doubt I will fail your expectations. I am a sinful man. But that has nothing to do with Jesus.
If you sing a terrible version of a popular song, it has little to do with the worth of the song itself. The sin and failure of a Christ-follower has little to do with Christ Himself.

MYTH 14
YOU CAN'T HARMONIZE ARCHAEOLOGY WITH THE BIBLE
There has never been a single archaeological discovery that has ever contradicted the Bible, but countless that have supported it. That is simply the record.
"It may be stated categorically that no archaeological discovery has ever controverted a Biblical reference. Scores of archaeological findings have been made which confirm in clear outline or exact detail historical statements in the Bible. And, by the same token, proper evaluation of Biblical description has often led to amazing discoveries." – Dr. Nelson Glueck, Rivers in the Desert, (New York: Farrar, Strous and Cudahy, 1959), 136.

MYTH 15
ALL THE CHURCH CARES ABOUT IS MONEY
There is little doubt that there are some imbalanced churches and some sketchy ministries that seem to care about what's in your wallet more than you.
But they are the exception, not the rule, and when evidenced have nothing to do with the directive of Jesus.

MYTH 16
THERE ARE SO MANY TRANSLATIONS OF THE BIBLE THAT WE CANNOT KNOW WHAT IT SAYS
Don't confuse translations with "versions." All ancient manuscripts that we read today are offered as "translations" into English.
We know exactly what the Hebrew and Greek manuscripts said; it's the English language that keeps changing and demands continual updates.

MYTH 17
NONE OF THE GOSPELS WERE FIRST-HAND EYEWITNESS ACCOUNTS
All four gospels clearly maintain they are eyewitness accounts. Further, the textual credibility of all four is among the highest of all ancient texts, validating both their authorship and era.
Learn More:
Are There Grave Defects In The Bible?
Who Wrote The Gospels?

MYTH 18
JESUS NEVER MEANT TO START A CHURCH
Jesus said, " … I will build my church, and all the powers of hell will not conquer it." (Matthew 16:18, NLT) 

Source: Adapted from Dr James Emery White's "A Search For The Spiritual: Exploring Authentic Christianity" (Baker Books)